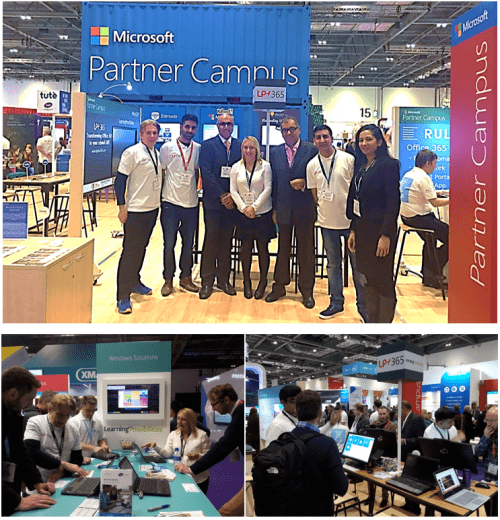 THANK YOU
We had a great time at this year's BETT Show, and were delighted at the opportunity to showcase LP+365, our flagship Office 365 based Learning Management System (LMS) on two stands: the HP and the Microsoft Partner Village stands.
Before anything else, we would like to thank you for your continued support. As a social enterprise we're totally focused on the impact of our solutions, so nothing beats your invaluable feedback.
OUR ANNUAL BETT NETWORKING EVENT

We had a superb evening at our annual BETT networking event. We were very honoured to be joined by a great group of friends, from the likes of 'Disney to Dubai' – in the words of our Chairman, Professor Stephen Heppell!
What better way to kick off the BETT Show than with a party?
SHOWCASING LP+365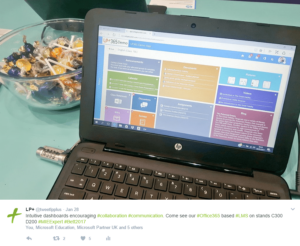 Having a Global Alliance and Gold partnership with Microsoft, we were very excited to showcase our latest Office 365 based LMS at the BETT show.
The app is installed onto your schools Office 365 tenancy, transforming Office 365 from a productivity tool to an educational learning platform that is easy-to-use; and will support good teaching and positive learning outcomes.
We've created two simple dashboards:
– A personal dashboard that centralises your personal information, including emails, events, OneDrive files, a breakdown of homework and assignments and access to Skype for business.
– A class dashboard that facilitates communication, collaboration, sharing and management of homework, assignments and resources.
Each class site has the same look and feel – keeping it consistent to make understanding and using the app as straight forward as possible.
Each class site will have the same look and feel – keeping it consistent to make understanding and using the app as straight forward as possible.
PARKLANDS PRIMARY – 'SUCCESSFUL ROLLOUTS OF NEW TECHNOLOGIES'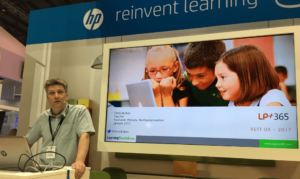 Having been friends and a customer of ours for 10 years, Parklands Primary recently decided to make the move from LP+4 over to LP+365 our latest platform.
We were pleased to welcome Chris Dicken, Teacher at Parklands to join us at BETT. Chris told us how LP+365 was a faster, fresher model of LP+ and how they were going to enable staff and students to make use of the Office 365 toolset enhancing good teaching and learning.
SONIA MCLAUGHLIN – PEDAGOGY BEFORE TECHNOLOGY'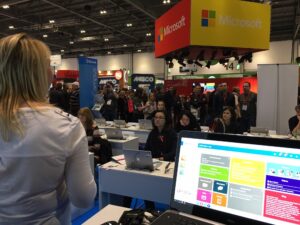 Sonia McLaughlin has been working in the industry for 5 years and knows first-hand how schools are benefiting from technologies like LP+365. Sonia discussed and showcased real examples of how schools are using our solutions Worldwide, helping teachers offer their students enhanced learning experiences.
PROFESSOR STEPHEN HEPPELL ON 'REINVENTING LEARNING'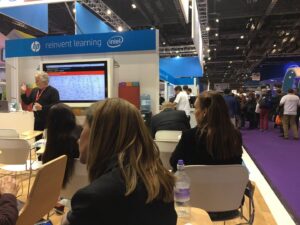 Professor Heppell's enthusiasm for learning and moving the education sector forward is contagious. So much so, it's difficult not to stop and listen when he's speaking.
Stephen spoke about reinventing learning with support of effective and suitable technology.
MICROSOFT'S JOE BELFIORE AT LP+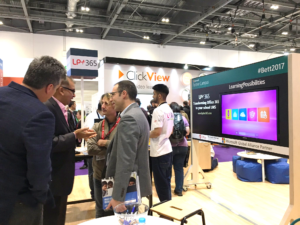 Joe Belfiore is Corporate Vice President, Windows 'PC-Tablet-Phone' at Microsoft. We were honoured to have Joe visit our stand, and were very happy to have the opportunity to introduce him to LP+365.
CHAIRMAN, PROF. STEPHEN HEPPELL IN THE BETT ARENA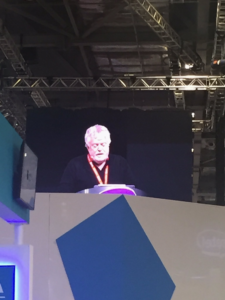 The BETT Arena is renown for its inspirational, thought provoking and jaw dropping key notes by some of the industry's biggest names including Sir Ken Robinson, Imogen Heap, Anthony Salcito, and our very own Chairman, Prof. Stephen Heppell.
Our stand at HP was almost directly under the big BETT arena screens. So although we knew Stephen would be speaking, seeing his face from so high above was quite a (pleasant) surprise!