Thursday, 22 September 2016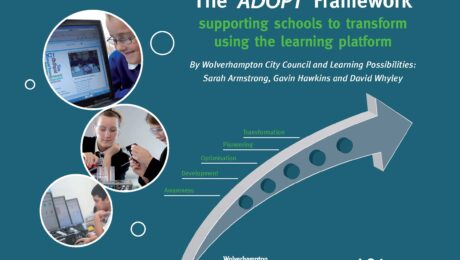 In 2010 Learning Possibilities published the award winning ADOPT Framework, authored by Professor Stephen Heppell, Sarah Armstrong, Director of Education at Learning Possibilities, and a team from Wolverhampton City Council.
ADOPT received immediate recognition, and was selected as the UK's National Learning Platform Adoption Model, by the UK Department for Education. The Company also won the prestigious BETT award that year.
ADOPT is an acronym for a 5-stage model (Awareness, Development, Optimisation, Pioneering and Transformation) defining the adoption of LP+365 and its associated Microsoft technologies in the classroom. This helps teachers and school identify where they are in their journey and what their next steps should be. ADOPT and the LP+ Platform have been used by millions of learners since its publication.
ADOPT was used by the Government for its National Project in Wales, and you can download of copy of the ADOPT Framework used in Wales.
ADOPT is the culmination of a 10 year journey to understand how technologies can be used to drive adoption and cater to the needs of educators and learners across many countries in the world. Independent research shows that using the LP+ Platform builds communication and collaboration skills, as well as engaging hard to reach learners.