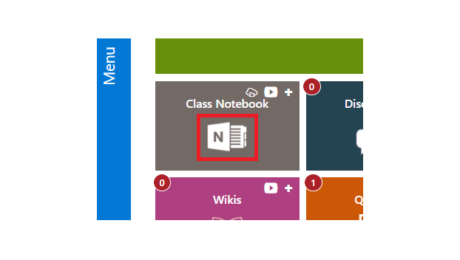 The Class Notebook is a feature packed part of LP+365. You may already know that each student is automatically provided with their own private section including class notes, Quizzes, Handouts, e-Portfolio and Homework. Teachers can also add additional sections to reflect different requirements within the school curriculum and there is also a collaboration space and content library. The class notebook can also be used offline and has its own dedicated mobile App for both Android and IOS.
What you may not know about the Class Notebook is that teachers can generate a unique link for each student that can be shared with the students parent or guardian, allowing them to follow their child's progress throughout the academic year.
Teachers can generate the unique links by following the 5 simple steps below.
1. Select the Class Notebook icon on the Class Notebook tile.
2. Select Manage Notebooks.
3. Select the Class Notebook.
4. Select 'Parent and Guardian links'.
5. The Teacher can now generate links for individual students or the whole class and share them with their Parent or guardian. The links are read only and no account is required to access them.
Using the link, the parent or guardian can now access their child's class notebook and follow their progress throughout the academic year. In the example below the parent or guardian can see the students most recent homework.