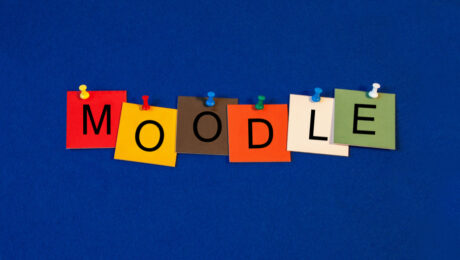 Open source software (OSS) has gradually entered the field of education to meet the need of affordable and customizable tools. Many countries have paid great attention to the development of open source software for education. However, many problems occurred in its application, which hindered growth, particularly in developing countries. This was especially true for Learning Management Systems (LMS) in Malaysia.
Learning Management System (LMS) or online learning portal has become an electronic learning and communicating ways for many higher education institutions in Malaysia. The use of eLearning has increased in this few years and open source learning management systems have become a popular choice for these higher education institutions in Malaysia. Ensuring the LMS usability is an important factor that can affect the overall acceptance and success of the platforms. The brief report will evaluate the usability factor of LP+365 and the open source Moodle LMS. Learning Management Systems or LMS is a platform that is designed to assist the delivery of online courses. Other than the term LMS is used, other commonly used term for such platform are Course Management Systems (CMS) and Virtual Learning Environment (VLE). The LMS used across higher education institutions in Malaysia accounts to Open Sources – 57.7%, Commercial – 34.6%, and In House Development – 15.4%.
Many LMS have been introduced as Open Source Software (OSS) License, this includes Moodle, Sakai, Claroline, Desire2Learn, Edvance360 & etc. The evaluation and selection of inappropriate LMS packages can have and adverse effect on the processes for a given education institute. Further to that, the task of identifying OSS LMS has become increasingly complex given the large number of OSS LMS packages available on the market, the lack of experience and technical knowledge to customize, increased cost of hosting OSS LMS and on-going development in the field of educational information technology.
Educational OSS LMS are not self-sufficient sometimes like commercial products. The most important disadvantage is risk of losing support. As the most users will be interested only to use the software, not to build it, so there is risk of losing support and resources. In that case, educational institutes will face trouble to improve and customize the software. Although the magnitude of development and maintenance related issues could be challenging, it is clear these problems are more severe there, as there is lack of stable and cost effective OSS infrastructure and ecosystem.
More often than not, OSS community does not follow a well defined/ well-documented software process, which raises development problem within the OSS community during product development. Due to the absence of an explicitly defined and documented software development process for OSS development, the drawbacks which arise due to the absence of a process are also not documented elaborately in the literature. However, few specific problems were identified and debated in detail within the OS e-learning development community. The major problems that were identified include software design issues, lack of complete and accessible documentation (technical as well as user documentation), not addressing all user requirements, etc. Since, the OS systems and its features are mainly developed to address the developer's immediate requirement; it mainly results in less attention being paid to design issues. The poor design and requirement
analysis in-turn leads to factors like, misunderstood features, poor user interface, etc. Also, due to the absence of a defined process, the co-ordination between unknown developers might be difficult and the new comers to OSS development might find it complicated to understand the development process, etc. All these issues significantly affect the OS e-learning system development and thereby the product quality itself as there no guarantees that project will reach completion with desired results. The progress entirely depends on the interest and time of collaborative workforce, lack of resources or funding can derail a project. This in turn could make the institute of higher learning to prefer commercially developed proprietary software products which are much easier to work with. Proprietary LMS learning provider; Learning Possibilities commit resources to product documentation and customer support. The lack of commercial incentives in many open source projects undoubtedly reduces contributors' enthusiasm. If the support disappears, educational institutions will have trouble improving and customizing open sources projects.
The Multi-Criteria Decision Making (MCDM) was used to evaluate and compare the Moodle OSS LMS package with LP+365. Multi-Criteria Decision Making (MCDM) is defined as the collective method adopted to compare, rank and identify the appropriate LMS platform for evaluation of LP+365 at Asia Pacific University of Technology & Innovation (Malaysia). Each platform were presented with it's multiple criteria against the decision matrix.
As is the case in the choice of Learning Management System, there are decisions required to give in the selection of LMS, one of the most important decisions is whether the LMS to be used should be a system that has a license fee and is centrally developed one or an open source system with volunteer developer audience and without any need for license fee. This decision is the one directly affecting the quality of training activities, their cost and success in the organization. The organization, while giving such decision, must evaluate the true capacity of using outsource, its budget, objected training activities and informational capabilities. Although IT managers around the world seem to split into two in the dilemma of open source code and commercial central development, this decision is related to capabilities, budgets and priorities of organizations rather than personal perspectives.
As in each investment to be conducted by organizations, there are important issues to be considered in the decision of LMS investment. These are elements regarding business or informatics such as usefulness of the system, suitability to the needs of institution, total cost of ownership, return on investment. However, the first decision to be given is whether the software to be used will be an open-source or closed-source coded software. If software is open source, this does not always mean it is free, and being free does not always mean the software is open-source.
Institute of Higher Learning should not only analyze the characteristics of LMSs in question but also evaluate e-learning project and organizational capabilities before making the decision of open-source vs commercial options of LMS. With a team, capable and adaptable to new technologies, it is possible to implement powerful but low-cost e-learning projects by using an open source LMS. On the other hand, using an open source LMS with a team lacking enough capability and motivation will lead to failure, total amount of wasted time and resources may be higher than that of selecting a commercial LMS with expert advisors for the project.
Table 1 presents the comparison of Open Source LMS (Moodle) and Commercial LMS (LP+365).
No.

Criteria

Open Source LMS (Moodle)

Commercial LMS (LP+ 365)

Fee
Nearly all OSS MS products in the market are completely free of charge including Moodle.
There are affordable prices for license and license renewal.
Technical Support
Technical support takes place in the form of asking questions/receiving answers in user forms, published documents, forums & blog posts. In cases of inadequacy, professional consultant is required.
Learning Possibilities offers technical support within the service agreement.
Hardware & Software Scalability
LMS is hosted on organization's own server. There is a need for specialized personnel for server maintenance.

Alternatively, the server can be leased and outsourced.

Within the scope of agreement, LMS will be hosted on Azure Cloud.

This leverages the Office 365 cloud solution to aid classroom collaborations and assessments engaging users to ensure a deeper learning experience.

The solution fully utilizes the power of Office 365 and will give schools an education focused and effective learning platform delivering the LP+ ADOPT pedagogy, and features and functionality of the LP+4 platform.

Development
With the programing language of the LMS, it is possible to make unlimited development as per needs. Community driven.

Developed by many independent developers that can complicate the

process of development and customization, management of security patches.

Developments are in software company's initiative. The company as social enterprise, with a view to keep customer satisfaction high, improves the product by

listening to institution, educators and student needs.

Adoption
Moodle implementation varies and learning how to use different implementation is time consuming.
Its simplicity. The App is organized in an intuitive manner, which means that both teachers and learners will be able to access their content quickly and easily.
Table 1: Open Source LMS (Moodle) and Commercial LMS (LP+365).
Challenges Faced by Moodle Implementation
Although Moodle can be downloaded for free, someone must be available to install, configure, maintain and update the platform. Because Moodle isn't a commercial product, you won't turn the key on an intuitive feature set that's ready to use. While the breadth of customization options can be attractive, it also generates a lot of extra design choices that must be made by your team. With Moodle, you lose the benefit of having a team of professional experts who have refined features over multiple iterations and tested user- friendly design choices for
You don't need technical support. Lack of support is a famous Moodle drawback. If you go with Moodle, your team will need to own everything from designing the platform at the highest level to managing all technical issues, breakages and bugs. All future updates and security patches for the platform must be handled by your team. And every time a new version of Moodle is released, all courses, modules and components must be individually updated to stay
You manage sophisticated users and learners with great technical The platform isn't easy to use. This technical difficulty makes Moodle a poor choice for businesses and associations charged with delivering courses to a range of learners of varying backgrounds and skill-levels. A serious risk of selecting an open source option like Moodle is that learners become distracted from completing their courses by the complexity of the LMS itself, jeopardizing results and completion rates.
Conclusion
A strategic early decision needs to be taken regarding the selection of the appropriate LMS system in any Institute of Higher Learning is deciding of going for open source or commercial LMS systems. Both types of LMS have their advantages and disadvantages. The Commercial LMS such as LP+365 systems have many advantages, including the development by one company with an approach and unified concept of development, LMS are thoroughly tested for bugs and errors, updates can be installed automatically, customization can be done only by the company.
Furthermore, LP+365 LMS systems include the latest tools and modules to support the faculty staff and students on one hand. With LP+365, educators can add announcements, load resources and set assignments at a click of a button, while students can see their daily calendar, assigned homework, previous submissions, their class/subject sites and curriculum material – all neatly organized and easily accessible. This includes instant access to native Office 365 Apps like Word, Class Notebook, PowerPoint etc.