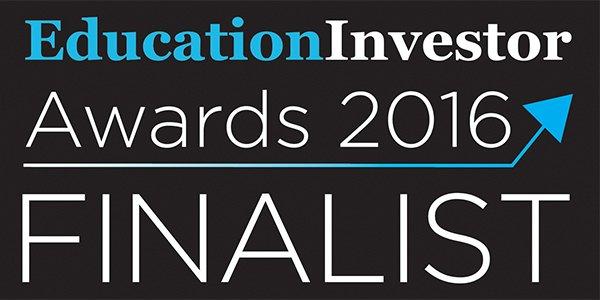 Elstree, 25th July 2016 — Learning Possibilities Limited (LPL), UK's leading cloud based learning platform provider, has again been shortlisted for the Education Investor Awards this year, after winning the Education Investor Award for Technological Infrastructure in 2014 and 2015. .
This year the company is running for two Awards, the first under the grand-prix for Education Partnership of the Year, with Microsoft for the development of their latest Learning Management System (LMS), LP+365 built on Office 365 and Azure to transform learning; and the second under suppliers for the use of educational technology.
The company won the 2014 Education Investor Award for Technological Infrastructure, after securing a contract with the Welsh Government for the provision of an LMS for all schools in Wales. In 2015, Learning Possibilities again won the Education Investor Award for Technological Infrastructure, soon after the announcement of the extension of the contract for the all Wales national learning platform, Hwb+ to 2018.
Mehool Sanghrajka, CEO of Learning Possibilities, was delighted to be shortlisted again. He said:
"The Education Investor Awards are the UK's most prominent EdTech Awards, and we are delighted the our innovation and achievement in the education technology sector has been recognized again this year. It is our company's mission to enhance teaching and learning and to help students achieve more, through the provision of innovative and advanced technology."
To learn more about the company and its advanced education technology, please visit our website
About Learning Possibilities
Learning Possibilities are an award winning, Global Alliance and Gold Certified Microsoft Partner implementing e-learning solutions, with expertise in cloud computing for education and government customers. The Learning Possibilities' LP+ platform built on Microsoft technologies is currently used by over 1 million users across the UK. In 2015 the company's contract to supply the Hwb+ National learning platform (based on the award-winning LP+4 learning platform) to the Welsh Government was extended to 2018. An independent research done by Lancaster University in 2009 shows that the LP+ learning platform drives educational outcomes. Learning Possibilities has also published the LP+ Adopt e-maturity framework for schools, selected by Becta (UK Department of Education) as the National Learning Platform Adoption Model for England. For more information visit: Learning Possibilities Website

About LP+365
LP+365 is the most advanced LMS built on Office 365. The solution fully utilizes the power of Office 365 and will give schools an education focused and effective learning platform delivering the LP+ ADOPT pedagogy, and features and functionality of the LP+4 platform.
For more information contact Bansri Mehta | +44 (0) 20 8236 1018 | bansri.mehta@lpplus.com