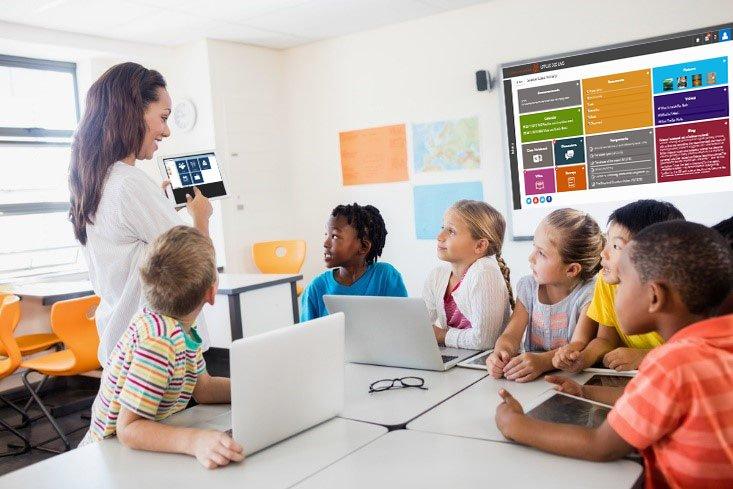 The 1980's
I remember when we first connected schools together using online technologies in the 1980s, it seemed like the future was already here!
Standing at one point in a red telephone box with a battery text-only computer and an acoustic coupler (you had to shove the phone handset into it's two rubber cups) the folk queuing outside thought "never mind the future, this bloke is from another galaxy!". It certainly felt like another universe opening up.
The 1990's and 2000's
As we progressed into the 90s and as the code for the World Wide Web was released (1995) that plain old electronic mail started to look dated and dull. Then as we approached the millennium the Blair government were promising an email address for every school student, and Gordon Brown as Chancellor was saying:
"our new University for Industry can, from the 1990s, through satellite cable and interactive technologies, bring lifelong learning direct to homes as well as workplaces."
and that promise of connectivity underpinning learning progress is pretty much a common factor. Of course, neither Blair nor Brown delivered on their promise, but the intention was good!
Online Learning Environments
And soon these new online learning environments were underpinning some remarkable innovations in education. The newly launched National College of School Leadership had an online community for all 20,000 plus English headteachers (Talking Heads) from 1999, whilst Scotland (Heads Together) and Wales (Pen-i-Ben) followed suit and rapidly the whole National Professional Qualification for Headship (NPQH) was moved online; a very wired generation of school leaders started to emerge. And as we passed through the millennium (and the feared but mythical millennium bug!) the huge and controversial Dome at Greenwich became a showcase for children across the UK who has been part of the Tesco Schoolnet 2000 – then the Guinness Record's "World's Largest Internet Learning Project", as together they shared investigations and tasks with others around the country. (for example "find the most famous person where you live; ask them about their schooldays…")
I know about all this because I was involved in it all. Exciting, wired times indeed.
Are they a Luxury?
So I was a bit amazed the other day when I heard from a school that working online was a luxury they didn't have time for. To get to the point we are at today, with SO much power in the system it took a lot of work from teachers, children – pioneers all – and technology partners. And the power of today's platforms like LP+365 would have been unimaginable less than 20 years ago.
However, "we have worked so hard to get to this point" isn't much of an argument, going forward, so it is useful to think about why this connectivity now matters even more than ever.
The Curriculum
Obviously a starting point is the curriculum, and in the relatively new English Computing programmes of study at every key stage, an awareness of use of online systems appears with much talk of audience, trustworthiness, real-world problems, physical systems and detailed reference to understanding "computer networks, including the internet; how they can provide multiple services, such as the World Wide Web, and the opportunities they offer for communication and collaboration". In Wales Digital Competence is one of 3 cross-curricular responsibilities, alongside literacy and numeracy and of course the Welsh government have committed to a connected community (Hwb) underpinning all their learning, to achieve their ambitious Digital Competency targets. Similarly, Scotland's Curriculum for Excellence was a timely opportunity to revise the way Computing was taught in schools and to look at keeping everything up-to-date and engaging. This is familiar territory all around the world. Yesterday's "able to use a spreadsheet" has become today's "programming algorithms" and tomorrow will no doubt include inventive robotics and Artificial Intelligence for rule based systems.
As technology moves rapidly on, we need the systems we use to move rapidly too. At Learning Possibilities we spend a lot of time, and research, making sure we will be as useful tomorrow as we are today!
A second point is the need expressed in so many surveys, for employees to have online working capabilities. An OECD survey of CEOs revealed a clearly expressed need for collaboration, for trust and for shared purpose – all well documented outcomes from children working online together. If you start from a view that many, perhaps most, jobs will have a significant online component, then the entitlement for children to develop strategies to work in that online space becomes obvious. But how much online activity? Anything less than 20% would seem like tokenism, but 20% is a day a week. You see why online connected working is so useful. You need an infrastructure to support that.
Finally of course, the exams, tests and other outcomes from education change and change increasingly rapidly. Right back it the beginning of connectivity in schools the challenge was what we could do better with the technology we had. Today though, we take that technology for granted and we are asking so much more of it. The influential PISA tests have already progressed to collaborative problem solving, and connected collaborative problem solving is next on their list.
Lately, I've been busy with a project using today's tech to measure and optimise the conditions for learning and testing: the temperature, light levels, CO2, sound and noise, humidity, pollution and more. Schools who have embraced technology today are so much better placed to grab hold of the data and make their learning outcomes better. We have, as part of the research, visited 56 examination rooms and found that all, in some way, damage the prospects of the students in them. Sometimes that damage is profound. Those children in schools without great technology, bluntly, will do less well than they could, or should.
A luxury we don't have time for? With today's technology systems the progress is often with the things you don't see, or hadn't thought of. That feels like a long way forward from the 1980s!
For more information on how to stay connected and current in your school contact us here