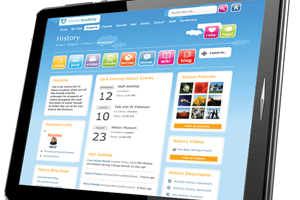 LP+4 is the latest online learning solution from Learning Possibilities. The LP+4 system is based on the very latest web technology and social networking concepts. It embraces approaches and media types, such as video, social networking, digital content, and rich user interfaces that will become even more important as we progress into a new era.
We have seen the learning platform space grown from basic online storage into connected learning communities. Through the success of our existing product sets, we have gained a substantial learning community who are using our platform as part of their daily learning and teaching activities. The usage of this platform and its global presence gives us an insight into the world of the learner and from this we have been able to get a view of what next generation learning platforms need to provide. It is now time for us to set a new standard with LP+4.
LP+4 enables schools to have maximum, choice and flexibility, a platform that can be organised and customised around the user. Providing learners with contemporary ways to learn, question, share ideas, broadcast knowledge and follow personalized learning paths, students can learn at their own pace and get immediate feedback .
Widgets, templates and gadgets on LP+4 make it easy to create learning spaces where students collaborate on projects. Integration with online Microsoft web apps means that students learn to use real-world software and are better prepared for the workplace. Most importantly students can access this vibrant learning community from wherever they are, whenever they like through any connected device – bringing learning to their fingertips and into their world.
Mehool Sanghrajka, CEO, Learning Possibilities said at the launch:
"We are more excited about LP+ 4 than ever. A platform designed by teachers with education at its heart, but integrated into the connected world beyond. Our ability to create a true product on SharePoint, rather than just templates and themes, has resulted in a vibrant, interactive and intuitive solution."