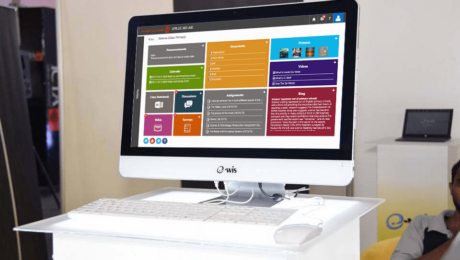 The LP+365 LMS App on E-W Information Systems (EWIS) devices will aid classroom collaborations, enabling educators and students to create and share in entirely new ways for immersive and inclusive learning experiences.
Colombo Sri Lanka 23 February 2017 – Learning Possibilities, a Microsoft Global Alliance Partner and E W Information Systems Ltd (EWIS), celebrating 30 years in the IT industry, have announced an agreement to roll out the fully featured LP+365 – Learning Management System (LMS), utilizing Microsoft Office 365, on EWIS devices. The roll-out was announced at a media conference attended by Hon. Sagala Ratnayaka – Minister of Law and Order and the Hon. Prime Minister's Chief of Staff, Sanjeewa Wickramanayake – Chairman EWIS, Mehool Sanghrajka – CEO Learning Possibilities, Ms. Rani Burchmore – Education Partner Director Asia-Pacific Region Microsoft, and Brian Kealey – Microsoft Country Director Sri Lanka.
The LP+365 App, which is hosted on the Microsoft Azure cloud, provides an intuitive user interface and personalized dashboard– leveraging the Office 365 cloud solution to aid classroom collaborations and assessments, engaging users to ensure a deeper learning.
With LP+365, teachers can add announcements, load resources and set assignments at a click of a button, while students can see their daily calendar, assigned homework, previous submissions, their particular class/subject site and curriculum material – all neatly organized and easily accessible. This includes instant access to favorite Office 365 Apps like Word, Class Notebook, PowerPoint, etc. LP+365 will enable educators and students to create and share in entirely new ways for a more immersive and inclusive learning experience.
EWIS has been a Microsoft Partner since 1997 and a Microsoft Education Partner since 2013, authorizing them to provide education solutions based on their cutting edge technology.
Sanjeewa Wickramanayake, Chairman EWIS said:
"In keeping with our Government's vision to create a digitally inclusive next generation, we believe that this partnership will be of great value to students and educators, alike. Technology in education is so important now that we hope this platform will support and drive our next generation into digitalization."
Mehool Sanghrajka, CEO Learning Possibilities, further added that:
"The LP+365 LMS for Office 365 is built on our award-winning technology. Our global partnership with Microsoft will mean that schools in various Asia Pacific markets will be able to use LP+365 to enhance the teaching and learning experience and drive employability skills."
Ms. Rani Burchmore, Education Partner Director Asia-Pacific Region, Microsoft commented:
"The partnership with Learning Possibilities and E W Information Systems brings proven software and technology with local support to drive educational impact on Office 365 and replicate best practice and results that we have already seen."
As a local company, one of the key features of E W Information Systems Ltd is education and empowerment of students through technology, knowledge and equipment. For the past three decades, E W Information Systems Ltd has been in the IT Industry and in 2013 opened Sri Lanka's first Computer manufacturing plant which manufactures computers, desktops and tablet notebooks of international standards.
"With the Government's vision for a digital transformation in classroom education, this agreement will enable users of our products to avail themselves to subjects such as Maths, Science and English through an easy-to-use app on their own devices," added Wickramanayake.
About Learning Possibilities
Learning Possibilities are a Gold Certified Microsoft Partner implementing e-learning solutions with expertise in cloud computing for education and government customers. The Learning Possibilities' LP+ platform built on Microsoft technologies is currently available to over 1 million users across the UK. In 2015 the company's contract to supply the All Wales National learning platform (based on the award-winning LP+4 learning platform) to the Welsh Government was extended to 2018. An independent research done by Lancaster University in 2009 shows that the LP+ learning platform drives educational outcomes. Learning Possibilities has also published the LP+ Adopt e-maturity framework for schools, selected by Becta (UK Department of Education) as the National Learning Platform Adoption Model for England. See more on www.learningpossibilities.com
About E W Information Systems
E W Information Systems (EWIS) has 25 years of experience in the education sector, and is committed to offering client-oriented services focused on facilitating efficiency, innovation, and creativity through the field of Information Technology (IT). EWIS is a Gold Certified Microsoft Partner.
Press Contacts:
Learning Possibilities | +44 (0) 20 8236 1018 | bansri.mehta@lpplus.com
E W Information Systems | +94 77 7349620 | nirmal@ewisl.net