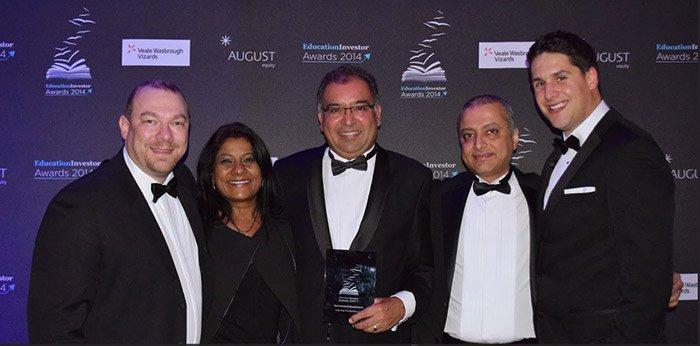 "Keep moving forward"…is a phrase that isn't new to me, and I don't think it will be to you either. There is a big focus on us all as individuals to keep progressing, both personally and professionally, and where I can understand the concept behind this phrase, I somewhat disagree with it.
Yes, it is imperative to strive and to work towards your goals, achievements and future – but isn't it nice every now and then, to also take a look back?
Around this time last year, Learning Possibilities were shortlisted as finalists for the very prestigious Education Investor Awards for Technological Infrastructure. Much to our delight as a company, we were presented with the award on November 13th, 2014 during a celebration of the innovation and excellence among businesses involved in the education sector.
For those of you who aren't quite familiar with the Education Investor Awards, each year an expert panel of judges look for organisations that have made an outstanding contribution to the sector during the academic year.
Learning Possibilities, in my opinion, is made up of a committed, hardworking and passionate workforce, who continuously work together to produce ground-breaking solutions to support, aid, and to transform education globally. On looking back, I remember this proud moment quite clearly, how thrilled we were (and still are) as individuals and together as a company, to have had our work recognised in such a prominent manner.
It's recently been announced, (yes, you might have guessed it) that we've been shortlisted as finalists for the same award again this year. There are currently lots of exciting things going on at Learning Possibilities, and we are all SO happy to be shortlisted again for the Technological Infrastructure Education Investor award for the second year running,. With this said, we do have to wait until November to hear the results. So for now, I shall ask you to wish us luck in the meantime, and I'll close this blog with another popular phrase…"watch this space"!