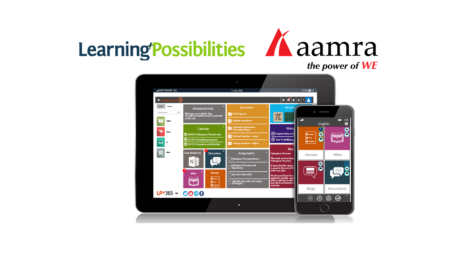 Learning Possibilities, a Microsoft Global Alliance Partner and aamra, a pioneer in the information and communication technology industry of Bangladesh, will together deliver the LP+365 App to educational establishments throughout Bangladesh.
Learning Possibilities are thrilled to have signed a partnership with aamra, winner of the 2017 Microsoft Country Partner of the year award, to revolutionise learning for students across Bangladesh. aamra are unrivalled in their understanding of the needs of their clients providing them with technology solutions  to maximise product satisfaction. aamra pride themselves on providing the appropriate technology to help organisations thrive delivering only the highest quality products and services. Learning Possibilities and aamra's new partnership will  deliver the LP+365 solution aiming to improve digital literacy, drive Office 365 usage and provide users with the toolset needed to boost communication, collaboration and creativity in the classroom.
What is LP+365?
LP+365 is the latest learning and collaboration platform by Microsoft Global Partner, Learning Possibilities. Integrated with the latest Microsoft technology on one simple but engaging dashboard the App brings LP+ technology to Office365, providing schools with all the tools they need to share resources, communicate, collaborate and manage assignments. The App encompasses technology enhanced learning complementing flexible pedagogies where teachers and students can explore flipped learning.
The App uses every major Office 365 tool and requires merely 20 minutes of initial teacher training. Improving digital literacy and driving the usage of Microsoft technologies the App enhances digital skills essential for employment. With over 15 years of experience and over 1 million users already benefitting from LP+ technology in the UK, LP are experts in driving the adoption of Office 365 in the classroom to help educators inculcate digital skills in learners through their award winning LP+ Platform.
Contact
 UK
Victoria Flint
Victoria.Flint@lpplus.com
Bangladesh
Abdur Rahman Siddique
rahman.siddique@aamra.com.bd
 About Learning Possibilities
Learning Possibilities are a Gold Certified Microsoft Partner implementing e-learning solutions with expertise in cloud computing for education and government customers. The Learning Possibilities' LP+ platform built on Microsoft technologies is currently available to over 1 million users across the UK. In 2015 the company's contract to supply the Hwb+ National learning platform (based on the award-winning LP+4 learning platform) to the Welsh Government was extended to 2018.  An independent research done by Lancaster University in 2009 shows that the LP+ learning platform drives educational outcomes. Learning Possibilities has also published the LP+ Adopt e-maturity framework for schools, selected by Becta (UK Department of Education) as the National Learning Platform Adoption Model for England. See more on https://lpplus.com
 About aamra
aamra is an amalgamation of businesses which are focused towards catalysing the modernization of Bangladesh by providing technology driven solutions to their clients in various market segments. aamra's Strategic Business Units (SBUs) serve their customers with wide range of IT and ITES solutions, i.e. Internet Solutions, International Internet Gateway (IIG), Video Surveillance, Video Conferencing, Payment & FSI Solutions, Enterprise Solutions, Cloud & IOT.  aamra is unrivalled in their understanding of the needs of their clients providing them with today's technology to maximise product satisfaction and pride themselves on providing the appropriate technology to help organisations thrive. Delivering only the highest quality products and services. https://www.aamra.com.bd/
 Press Contact:
Learning Possibilities
Olivia Belchier
olivia.belchier@lpplus.com
020 8236 1033