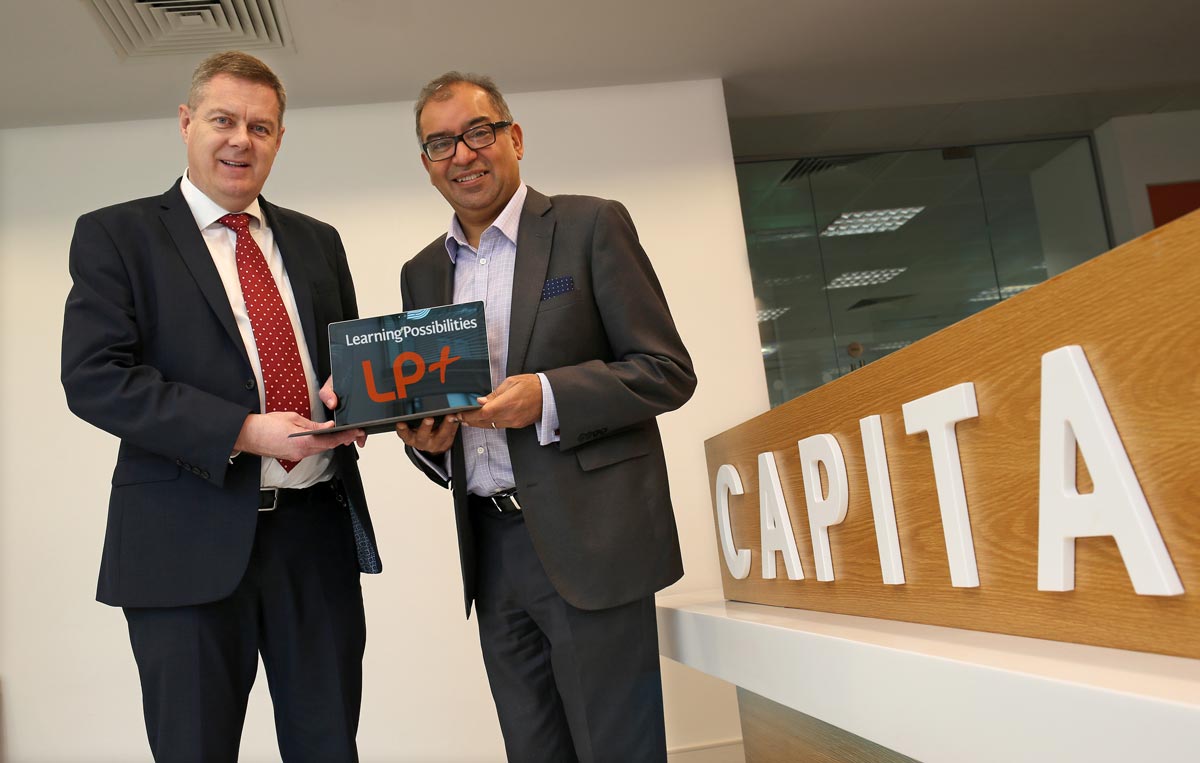 Capita Managed IT Solutions is thrilled to announce an exciting new partnership with Learning Possibilities Limited, the UK's leading cloud based learning platform provider, offering the award-winning LP+365 App to schools throughout Great Britain, the Republic of Ireland and Northern Ireland.
The LP+365 App has transformed the way schools use Microsoft Office 365, providing a digital solution to the management of teaching and education resources.
Imagine a scenario whereby students and teachers can instantly communicate and collaborate with one another, can access homework assignments, online textbooks and projects remotely from school, home or indeed any location with internet access.
The app effectively presents both teacher and student with a 'virtual school' that can be accessed using any computer, tablet device or smartphone. Running on the Microsoft Azure cloud, the LP+365 App has transformed Microsoft Office 365 into a school Learning and Collaboration System that's accessible anytime, anywhere.
A leading IT Services organisation delivering cloud, end-to-end IT Solutions, and IT Managed Services, Capita Managed IT Solutions has garnered a reputation as a specialist in the EdTech arena, having accumulated over 30 years' experience within Primary, Post-Primary, Further and Higher Education sectors.
Learning Possibilities collaboration with Microsoft began in 2003 with the development of the first cloud based Microsoft SharePoint learning platform. Since then it has signed a Global Alliance with Microsoft and this year was named 'Finalist – Microsoft Education Partner of the Year'. The LP+365 App captures the essence of the LP+ platform, which is contracted to over one million users across the UK and brings a teaching and learning focused approach to Microsoft Office 365.

Anthony Salcito, Vice President Education at Microsoft commented:
"Microsoft is committed to empowering the students of today to create the world of tomorrow. We believe access to a quality education and the opportunity to learn digital literacy skills is a fundamental right and not a privilege," said Anthony Salcito, Vice President Education at Microsoft. "We are humbled by and grateful for our partners' who deliver learning experiences across our platforms – enabling students to use tools that can help them secure employment today, and in the future. We couldn't be more excited by this important partnership between Learning Possibilities and Capita Managed IT Solutions."
Dr Mehool Sanghrajka, CEO of Learning Possibilities commented:
"Learning Possibilities is delighted to announce this exclusive partnership with Capita in the UK and Ireland. Over the years we have seen how effective technology in the classroom develops the digital skills most sought by employers. This partnership will bring together all the necessary technology components that schools need, and I am looking forward to working with colleagues at Capita to deliver our mission of helping students achieve more."
Ed Brown, Managing Director of Capita Managed IT Solutions commented:
"Capita Managed IT Solutions is proud to announce its exclusive partnership with Learning Possibilities and looks forward to helping schools to utilise LP+365 to help improve teacher and student collaboration and engagement, both inside and outside the classroom. We have a wealth of experience and expertise when it comes to providing the education sector with the latest technology and innovative solutions and, our partnership with Learning Possibilities provides a further example of how Capita Managed IT Solutions is committed to investing in and delivering technological advancement to schools and educational establishments throughout the UK and Ireland."
About Learning Possibilities
Learning Possibilities are a Global Alliance and Gold certified Microsoft Partner implementing e-learning solutions with expertise in cloud computing for education and government customers. Our mission at Learning Possibilities is to enhance teaching and learning to help students achieve more.
Learning Possibilities' LP+ platform is built on Microsoft technologies and provided to over 1 million users. The company has been contracted to supply the All Wales National learning platform to over 1700 schools, since 2012.
LP+365 is their most recent platform built to transform learning and now on the global market. It is a Learning Management System, fully utilizing the power of Office 365, giving schools an education focused, effective learning platform. For more information visit www.learningpossibilities.com
For additional information:
Olivia Belchier
Product or service names mentioned herein may be the trademarks of their respective owners.
About Capita
Capita is a leading UK provider of technology-enabled customer and business process services and integrated professional support services. With 74,000 people at over 400 sites, including 80 business centres across the UK, Europe, India and South Africa, Capita uses its expertise, infrastructure and scale benefits to transform its clients' services, driving down costs and adding value. Capita is quoted on the London Stock Exchange (CPI.L), and is a constituent of the FTSE 100 with 2014 revenue of £4.4 billion. Further information on Capita can be found at: www.capita.co.uk
Notes for editors
Capita Managed IT Solutions is a leading IT services company that provides cloud based and infrastructure services to public, private and third sector organisations and specialist managed IT services in the education, government, utilities and charities sectors.
Capita Managed IT Solutions works in partnership with its customers to gain a deep understanding of their organisation and then creates a technology strategy to support transformation, drive operational efficiency and reduce costs.  Making IT work better for customers is Capita's ultimate goal. Capita Managed IT Solutions is part of Capita IT Enterprise Services. For more information, visit www.capita-mits.co.uk