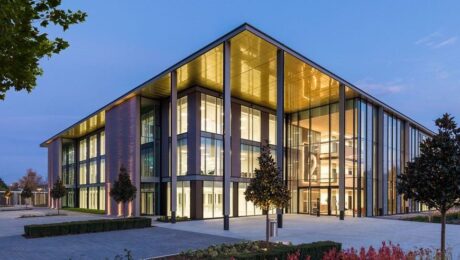 After 5 successful years working in Elstree, we are thrilled to be moving our UK based office to Croxley Business Park!
Why are we moving?
As a social enterprise Learning Possibilities wanted to move to an environmentally friendly working space in which the team can continue to be productive and work towards their mission of transforming the education of millions of learners world wide.
Why Croxley Business Park?
✔ The park is a completely environmentally friendly working space with on-site food composting to cardboard bailing and rainwater harvesting. 100% renewable energy, provide charging points for electric vehicles, run a park-wide car-sharing scheme, bike spaces, beekeeping, Environmentally aware schemes on the park- Zero waste to landfill, 100% waste recycled, 100% renewable energy source, on-site food composting and cardboard bailing, rainwater harvesting, Park-wide car share scheme and charging points for electric cars.
✔ Well Connected Hub More than just a great place to do business, Croxley Park is a well-connected hub, and home to a thriving community of more than 60 companies and 2400 employees
✔ Croxley Park's amenities and exciting events programme building stronger connections for working life
Contact us to learn more about our new exciting working space or to arrange a demonstration of our learning solutions.
Learning Possibilities is pleased confirm the launch of its first office in Asia, in Singapore, to manage its growing portfolio of opportunities in the region. Over the past 3 years, the young population and government focus on education, has resulted in the region becoming a key part of the Company's growth strategy. Learning Possibilities will establish an operations centre in the region to provide a launchpad for the business to make a significant social impact and accomplish its goal of bettering the lives of 100 million learners by 2022. The office will serve as the London based group's regional headquarters for its activities in the Asian and Asia Pacific regions.