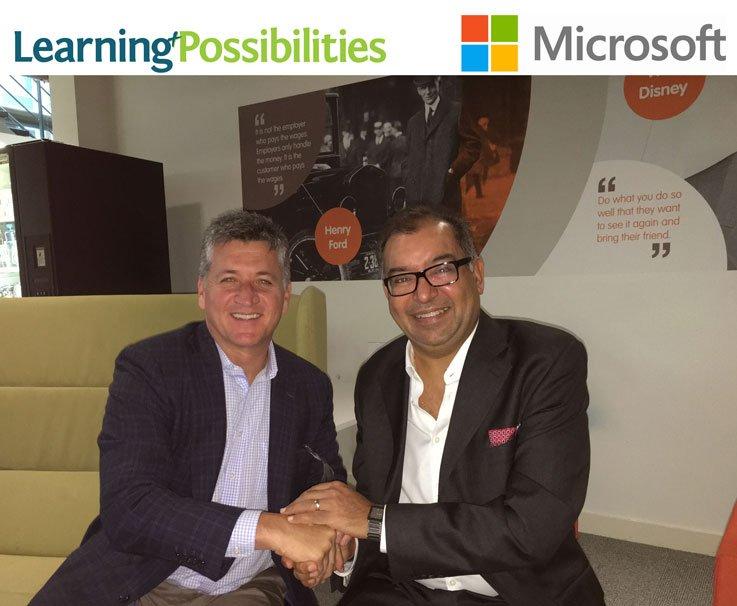 Learning Possibilities, the UK's leading cloud based learning platform provider, and Microsoft today announce a global alliance that will benefit schools and transform the way schools use Office 365, through the launch of the new LP+365 App.
The App, which runs on the Microsoft Azure cloud, transforms Office 365 into a school LMS, and presents the learner with a virtual school. The alliance adds to the successful partnership both companies have had since 2003 when Learning Possibilities developed the first cloud based Microsoft SharePoint learning platform.
LP+365 captures the essence of the LP+ platform and adoption pedagogies to bring a teaching and learning focused approach to Office 365 which will significantly increase global adoption of Microsoft Office 365 in education.

Larry Nelson, Microsoft Worldwide Education Partner Strategy Lead, said that:
"The alliance of Microsoft and Learning Possibilities adds to our investment in the Office 365 for education which is offered free to schools. Learning Possibilities brings educational relevance to Office 365 through their expertise in learning platforms and technology adoption, carrying focus on learner engagement and driving digital competency."
Dr Mehool Sanghrajka, CEO of Learning Possibilities commented:
"I am delighted that together Microsoft and Learning Possibilities are aligning their investment in education to enhance learning in schools. Driving digital competencies in education is critical at this time and I believe this alliance will contribute greatly to this goal."
Learning Possibilities will be in the Microsoft Village at Bett UK in January, 2016, showcasing their new LMS, LP+365. The preview App of LP+365 is available now from our website here.