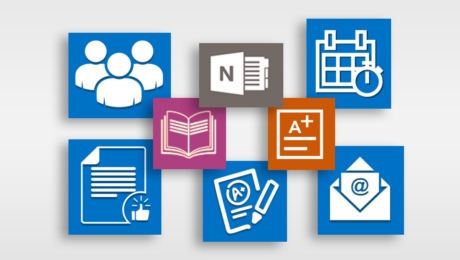 In initially designing LP+365, we took our inspiration from many places. In this blog I wanted to share some of our thoughts during this process.
Firstly I have been a long term user of the iPhone. I see from my own experience, as well as those of other iPhone users, that they use their iPhones for long periods during the day. However, not all iPhone users have the same apps on their phone. Its this ability to select the apps that you want that makes us heavy iPhone users. From an app perspective we all use different apps, but from a phone perspective we are heavy phone users.
Similarly we wanted to ensure high levels of adoption of the LP+365 platform and so we designed it with a selection of tools, rather than a process for teaching. Therefore you will find in LP+365 that there are many ways to do most tasks, and we let the teacher select the tool that suits them. For example, an assignment may be set on the Quiz tool, Assignment tool, Class Notebook, or as an emailed Word Document. A teacher will select the tool that is most appropriate, perhaps based on the tool's features, or the devices and connectivity available, their own IT-confidence etc. They are not limited to a process, or a single tool. In this way each teacher will use the tools they want, but the app itself sees heavy and regular usage.
Secondly of all the apps on my iPhone, I probably use 'WhatsApp' most frequently. I have never had to learn how to use this app, and I find that new features are both instinctive and simple to use. I see that even my mother, who has little experience of technology, has mastered it. We wanted to make LP+365 similarly simple and so all the tools are presented in simple tiles. In addition all features are simplified, with 1 minute – 'how to' videos added to each tile, and a selection of languages to use them. Many teachers tell us that as soon as they have mastered one tile, they are able to use the other without formal training.
Does it work? In practice, we see even in very large deployments that more than 90% of schools use LP+365 regularly, and as a result evidence shows that learners gain key digital skills.